Report from Liancourt:
Normalcy in the crossfire.
Thanks for all the inquiries and moral support.
Normal day to day activities go on as usual in Haiti except for the days when there are sporadic out breaks of demonstrations, gang activity or other dis­rup­tions. It is almost always unclear which areas are going to be affected so most people wait for the signs that it is going to be a normal day before they go out to fetch water, buy food and charcoal for daily cooking, or send their kids to school. Are the street vendors out today? Are there any cars or other vehicles on the street? Friends and families call each other to ask "How are things in your area? Is it safe to go out?"

Most or our partner preschools are functioning most of the time, except when there are violent disturbances in their area. Luckily for us our teacher training center is in an area which is mostly quiet so our activities go on as usual most of the time.
In the meantime, most people are just trying to pursue a better quality of life for themselves and their families, and holding on to hope for better days ahead.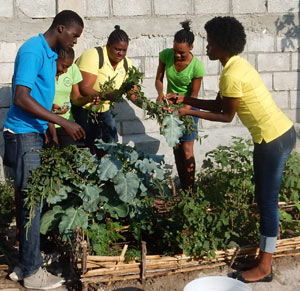 Students and teachers tending their gardens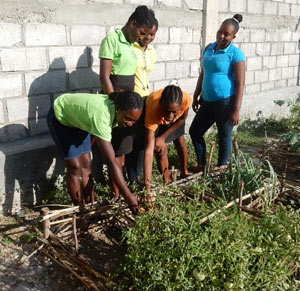 Students and teachers harvesting tomatoes
Glad there is still laughter