News from the Peter-Hesse-Foundation
END OF SCHOOL YEAR 2022
We are in the midst of planning teacher training, ordering and shipping Montessori materials to schools in Haiti, Senegal and Ivory Coast. This year we have printed and distributed 1,620 books to our Montessori partner schools. This number will increase next year, since we could not reach many of our partner schools in Haiti because of the insecurity situation.
Our latest work has just arrived from the printer. This is a workbook for students in Mali who are studying to be Montessori teachers. The workbook has been translated from French into Bambara/Bamanakan, the most widely spoken indigenous language of Mali.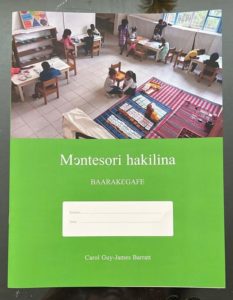 During colonisation French became the official language used in government and formal education in Mali. However, only 21% of the population speak French and almost all people who speak French in Mali speak it as a second language. Having books in Bambara/Bamanakan opens the learning experience to a much larger portion of the population. The workbook will not only be used for training Montessori teachers, but will also be a part of the "Bambara Electronic Library".
The goal of this project is to strengthen the Bambarophone literate environment by creating an online library of Bambara literature. This will allow a wide audience easy access to literature in Bambara and, in effect, will help in the archiving and conservation of Mali's cultural heritage.
Visit to Senegal and Ivory Coast
27 February 2022 – 20 March 2022
Covid has changed the way we function in both negative and positive ways. During my visit to Senegal to plan a training course there, I decided to start online classes for the theoretical section of our Montessori teacher training program. This turned out to be a very positive move, since we will be able to include more teacher trainees in the program.
Montessori preschool, Dakar Senegal
I also visited a school in Dialaw, two hours North of Dakar in Senegal. Teachers there will also benefit from the online training and are eager to join. The school in Dialaw opened in 2015, and has educational values similar to Montessori. They practice environmental stewardship, and their school building is made with bags of sand on a foundation of tires filled with rocks. The roof is also made of natural materials. We welcome their teachers to our training.
Schools in Abengourou, Ivory Coast
One of the children who enrolled in the first Montessori preschool funded by the Peter Hesse Foundation in 2008 came to visit me. She is now 15. Many young girls would have been married or had children by that age and dropped out of school. I am happy that she is unmarried and is still in school.